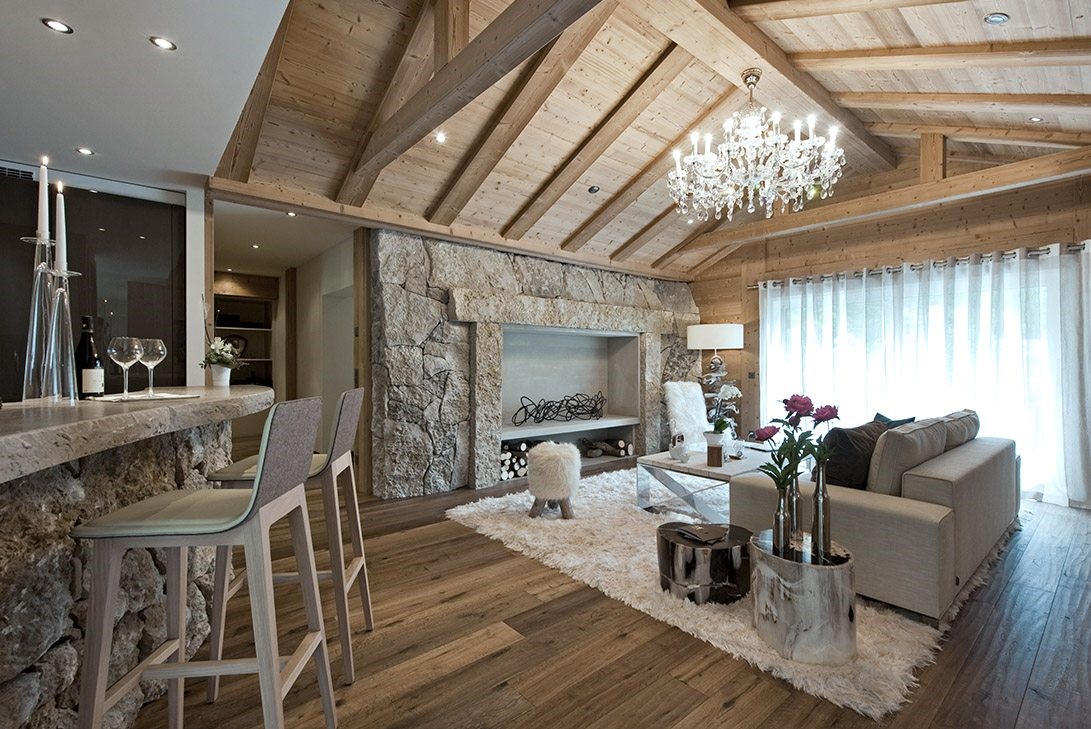 1. Mid-Century Modern Luxury in Greenwich Village
W 11th St #TH | $65,000/month
This brand new 9,652 Square-foot, 5-bedroom, 5-bath townhouse apartment is located in the beautiful west Manhattan area. The Great Room features soaring 22.5-foot ceilings and floor-to-ceiling windows leading out to a 2,412-foot private outdoor space. The private garden is great for summer entertaining with its built-in BBQ and refrigerator.
This luxury NY apartment also features a movie theater room, private gym, and adjoined sauna. Dolomite Marble countertops and kitchen islands accent the light, neutral color tones throughout the apartment. Gorgeous modern light fixtures adorn every room and add to the transitional contemporary design.   The open and airy floorplan makes this luxury NYC apartment a rare find.
Marc-Michaels Knows Mid-Century Modern
2. Stunningly Modern in Tribeca
161 Duane St #67 | $42,500/month
Nestled in between the beautiful historical industrial buildings and cobblestones streets of lower Manhattan, is this 6,884 square-foot modern luxury NYC apartment. Rays of glorious NYC sunlight streams through the large arched windows, casting abundant natural light on its tastefully modern design.
With six bedrooms and seven bathrooms, there is plenty of room for guests who will admire the beautifully-unique light fixtures and eye-catching artwork. The sleek granite countertops and clean straight lines of the design stunningly integrate with the pops of bright color throughout.
Luxurious Modern Design by Marc-Michaels
3. Contemporary Elegance in the West Village
43 Clarkson St | $34, 950/month
This luxury NYC penthouse apartment rises above the trendy restaurants and upscale boutiques of the West Village. The 5,500 square-foot space features a majestic winding staircase and an expansive wide-open floorplan. The dark wood floors gloriously contrast the neutral gray color scheme throughout.
Six beautiful oversized arched windows allow sunlight to flood this luxury NYC apartment's bright and airy eat-in kitchen. Enjoy your morning coffee bathed in warm natural light under a voluminous vaulted ceiling that expands throughout the kitchen and breakfast nook.
Floor-to-ceiling subway tiles in this luxury NYC apartment's bathrooms surround each guest with gleaming opulence, accented by exquisite Carrera and Thassos marble on the masters' tub and dual vanities.
Turn your luxury design dreams into a reality
Contemporary Sophistication by Marc-Michaels
4. Rustic Retreat in the West Village
69 Bedford St. | $25,000/Month
Also located in the city's historic West Village, this 3-bedroom, 2.5-bath brownstone townhouse is filled with rustic charm. This luxury NYC apartment's eat-in country kitchen features a Moroccan-style backsplash, exposed wooden beams and stately mantle atop an original fireplace. Modern updates to this lovingly-restored luxury NYC apartment kitchen include pristine marble countertops and a large farmhouse sink.
The top floor of this 1836 apartment features a stunning master suite with an expansive ensuite bathroom, featured in O Magazine. Mosaic tilework in the walk-in shower and marble vanity top add contemporary appeal to this antique home.
This excellent example of New York City's history was home to novelist William Burroughs from 1943-1944.
Rustic Relaxation by Marc-Michaels
5. Charming in Chelsea
9th Ave #6C | $15,000/Month
Within the luxurious Heywood building, which was formerly a printing house in the early 1900s, you find an expansive 2,124 square-foot luxury NYC apartment.
This Chelsea apartment features a gentle mid-century modern design with light-colored walls, floors, and decorative accents.
Each bathroom boasts marble vanities and gorgeous tilework while the kitchen displays gleaming marble countertops and stainless pendant lamps. The clean, airy design of this well-lit apartment create a warm and welcoming environment and offer incredible views of the NYC skyline.
Marc-Michaels Blends Mid-Century and Modern Design Beautifully