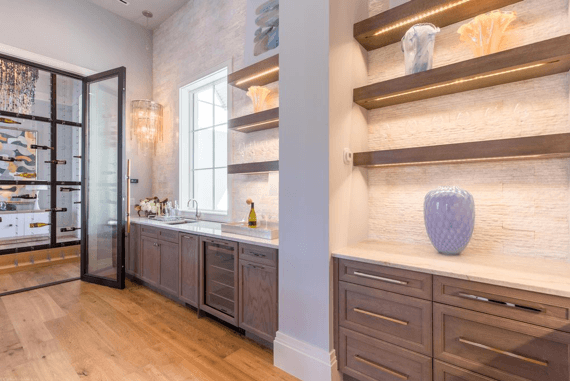 The kitchen is the heart of the home.
With the increase of the modern design homes where the open plan layout merges living, dining, and gathering functions, this is especially true. It's through careful, thoughtful design that the colors, shapes, materials, and function of your kitchen set the tone for the rest of your home.
Discover the preeminent 2018 kitchen trends our designers use to inspire the epicenter of a home's style and atmosphere.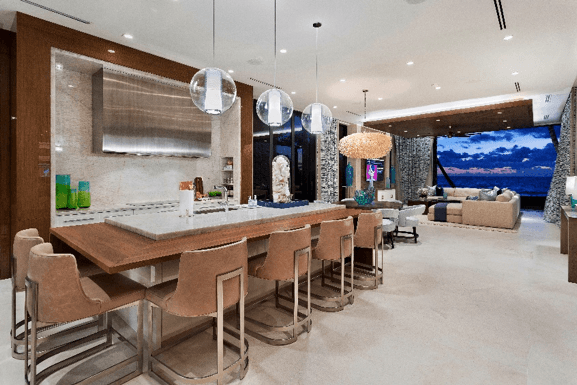 Our Favorite Kitchen Trends of 2018
Lighting: Cluster and Gather.
While single pendants are a constant favorite, when grouped together in an interesting arrangement they can deliver a dramatic statement.
A cluster of mini pendants might replace a more traditional chandelier as the focal fixture over an island, and groups of pendants mounted at different heights can create a striking visual while also increasing task lighting.
Lighting: Glitz and Glamour reign.
The thought of lighting as "jewelry" for the home is an important emerging 2018 kitchen trend, and the latest decorative fixtures are revving up the glam factor with high-polished nickel finishes, draped beading details, and plenty of cut-glass and crystal.
Traditional chandeliers are becoming a little cleaner and more streamlined to add the luxe element, without overwrought ornamentation.
Cabinetry: Less is more.
A quiet trend that's been rapidly gaining speed is the "no upper cabinet" 2018 kitchen trend.
As the modern, minimalist movement takes shape, homeowners want their spaces to appear as clean as possible. One way we achieve this is to nix upper cabinets altogether, and instead incorporate floating shelves, or open metalwork structures or glass sills.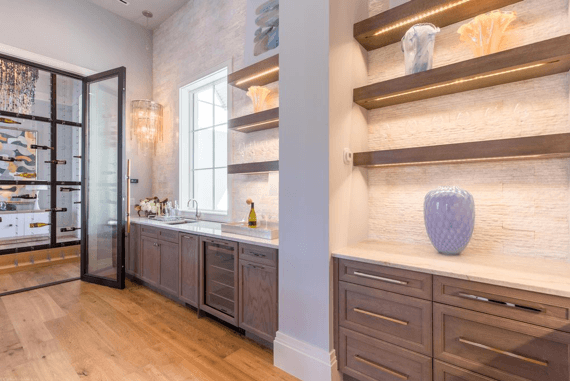 Finishes: Metallic rules.
From sinks to plumbing hardware; the new metallics are fresh and unexpected.
Turn your luxury design dreams into a reality
Many of our favorite manufacturers (Kohler, Kallista, Grohe) have introduced a striking variety of colors, including bright gold, rose gold, black gold, and even polished rose bronze.
Islands: Make a statement.
Once an option, or add-on in kitchens, islands have become an essential focal point of almost every kitchen design.
From unique island countertop choices to selecting an intense or vibrant color that contrasts the rest of the kitchen, there are many ways to make a personal statement
We're even designing islands with multi-level planes; mixing quartz and wood finishes all within the same island, and even introducing glass with hard-surface combinations.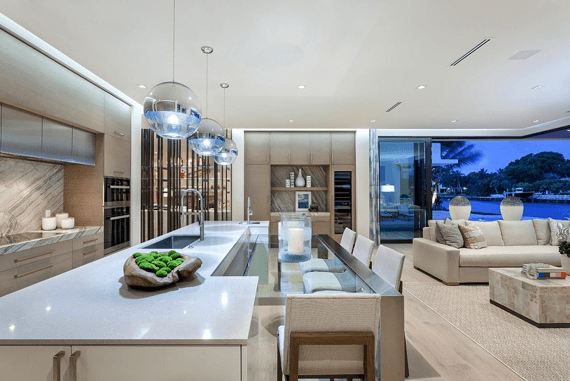 Colors: Mixed to perfection.
Taking a cue from fashion color trends; there is a new surge in the selection of multi-hued palettes that compose the kitchen cabinetry, hard surfaces, plumbing, and appliances.
Blending unique color selections with high-quality materials: wood, concrete, quartz, glass, ceramic, stone or metal in different shades – becomes a recipe for a unique and distinct kitchen.
With varying styles from classic to modern, and rustic to high-tech modern, designers can experiment with surface treatments – from matte to glossy, dark to light, with or without handles, or a combination of all.
Stay abreast of the best 2018 kitchen trends and other luxury interior design tips by subscribing to our newsletter or following us on social.