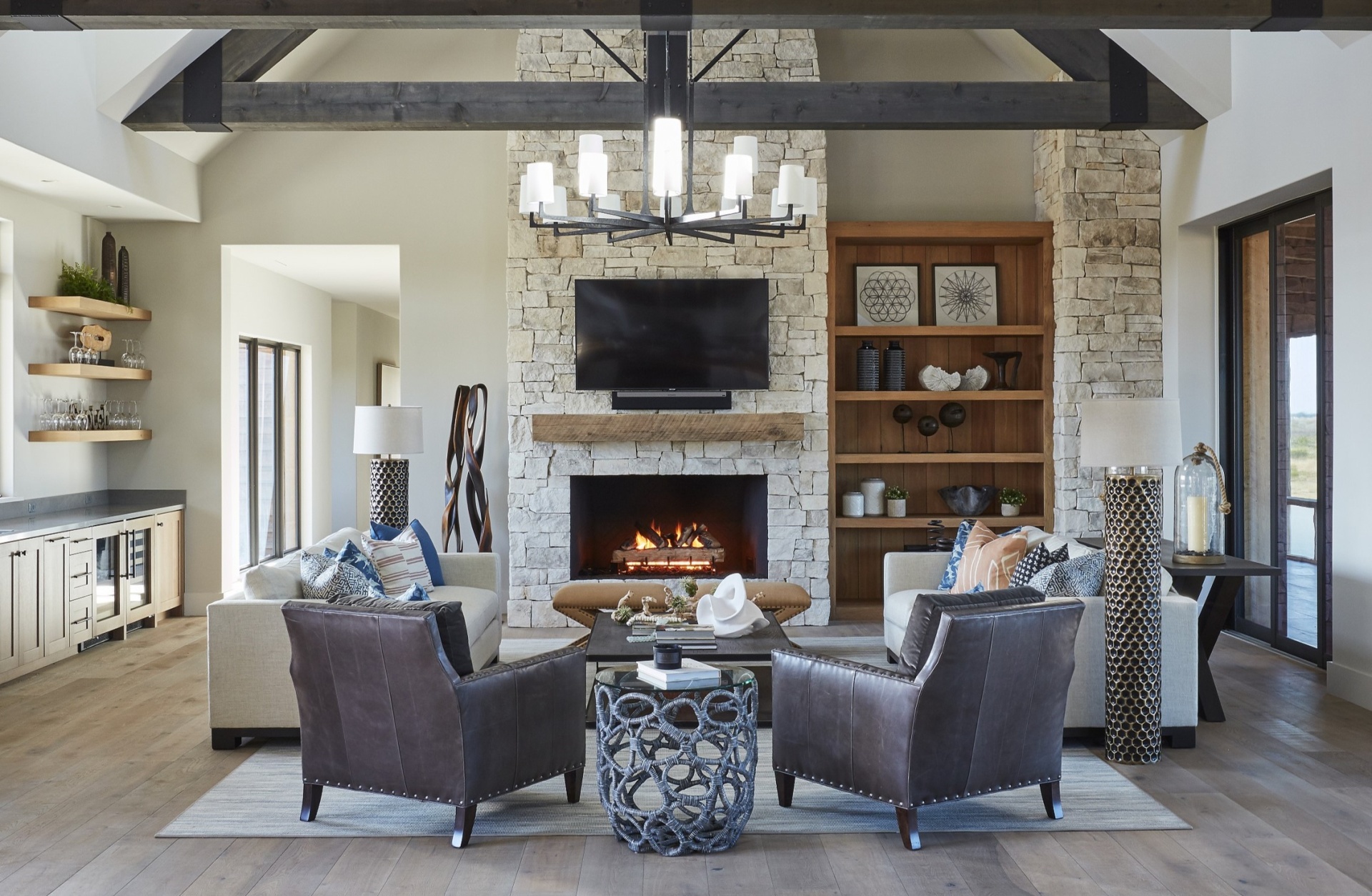 'Tis the season to gather and celebrate with family and friends. Whether you plan on cozying up in a rustic cabin, taking in all the sights and sounds of the city or soaking up the sun somewhere tropical, a comfortable place to savor time with loved ones is key.

A well-designed fireplace is the perfect backdrop for those special moments. Here are four fabulous fireplace design ideas from our team of award-winning luxury interior designers that are sure to warm up any space:
Rustic Glam Fireplace


The homeowners wanted to modernize their mountain home in Castle Rock, Colorado. "We used a split face stone with accents of blackened steel to create detail, as well as to serve as a ledge for electrified candles," says Melissa Adair, Senior Project Manager at Marc-Michaels. The result – a rustic yet sophisticated family room. The natural texture of the stone fireplace and exposed wood beams contrast with the geometric steel accents and the glistening, oversized chandelier.

 Timeless Traditional Fireplace


In this historic Boston brownstone, traditional fireplace elements are balanced with clean lines and symmetry to create a classic look that isn't stuffy. Melissa and team chose a traditional wood mantel and a clean, Calacatta marble slab on the back wall. Built-ins on either side of the fireplace are backed by antique mirrored glass. A light and airy color palette and plenty of natural light keep the living room fresh and open.

 Modern Chic Fireplace

Inspired? Let us turn your vision into a reality.

Who says tropical can't be chic? It just takes the right fireplace design idea. In this Manalapan, Florida, home, an oversized Cristallo marble fireplace takes center stage. Contrasting black lines form a pattern that breaks up the space and adds a modern flair. The sleek look of this fireplace is grounded by a matte, black porcelain hearth.



Classic Ranch Fireplace

Nothing says comfort like a classic, ranch-style home. In this great room, a rustic stone fireplace design creates a cozy focal point. A simple wooden mantle adds a contemporary flair. Asymmetrical details, like a built-in and stone column on one side, make the space casual and unexpected. 

Designing an Exceptional Fireplace for the Ideal Cozy and Luxurious Space
Gathering around a cozy fireplace with loved ones is one of the holiday season's simple joys. No matter where you're celebrating, create a custom look by layering materials and textures. When it comes to fireplace design ideas, don't be afraid to mix different styles and play with scale. Once you have the perfect fireplace setup, curl up next to the crackling fire with a hot cocoa in hand and take in the magic of the season.

Contact Marc-Michaels to discuss your dream fireplace design ideas with our internationally acclaimed team of luxury interior designers today.