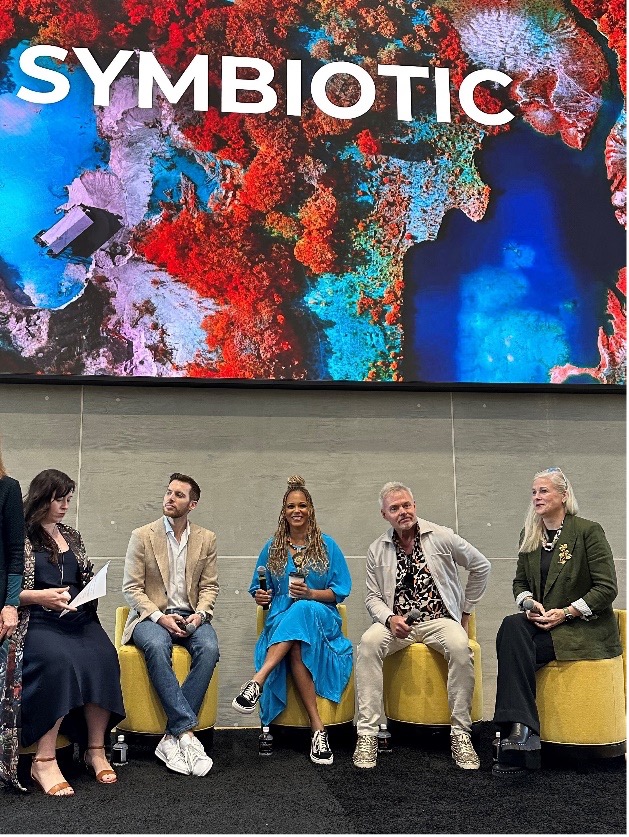 The largest group in Marc-Michaels history–15 of our luxury interior designers—headed to High Point, North Carolina, the "Furniture Capital of the World," during the last week of April for High Point Spring Market.

We ate, drank and shopped our way through the 11.5 million square feet of showrooms, meeting with seasoned and new vendors alike.
Twice a year, over 75,000 design-industry professionals gather at the market to be inspired by new products, tap into the greatest minds in the business, and make connections within the industry. Market-goers can also attend keynote series, hearing about latest trends and insider news from industry experts.
This year, Principal Marc Thee had the opportunity to speak on a panel with trend expert Jaye Anna Mize of FS; Caleb Anderson of Drake/Anderson and Well-Designed; Breegan Jane; and VP of Design at Crypton, Grainne Coogan. They discussed the evolving materiality and direction of Symbiotic Design and its crucial importance in the future of interior design.
Other highlights of our trip included a happy hour with Kravet, a private dinner at the Proximity Hotel with Well-Designed and private tours of many of the showrooms, including Four Hands, JDouglas, Baker McGuire and Verellen, a fan-favorite.
"Verellen really focuses on the full craftsmanship of their pieces," said designer Sydney Barnett. "On the undersides of their tables you don't see unfinished wood, bolts or hardware – just a continuation of the design. It really highlights how much care they put into their craft."
We asked some of our new Team Members how they felt about their first High Point Market experience:
Turn your luxury design dreams into a reality
"It's so much better to see and test out furniture in person and fall in love with lighting fixtures' intricate details in person," said Jordan Zaremba. "Some of those tiny but really impactful details can easily get lost via computer screen."  
"It really makes you appreciate the brand more and get ideas for current projects we're working on," agreed Jessica Rickey.
Other Team Members loved the experience of being immersed in design around like-minded people. "The showrooms were curated to inspire and they definitely did! It was very easy to walk around the spaces and start building designs in my head," said Kristina Marran.
"High Point is a great way to get inspired in all ways," said Megan Hopp, Senior Project Manager. "You get the chance to discuss design trends with some of the best designers. Then there's so much to take in with the new products each vendor is featuring."
After a full few days at High Point Spring Market, our team returned to the office truly inspired and ready to hit the ground running with all the new products and ideas!

Contact Marc-Michaels to discuss your luxury design project with our internationally acclaimed team of luxury interior designers today.