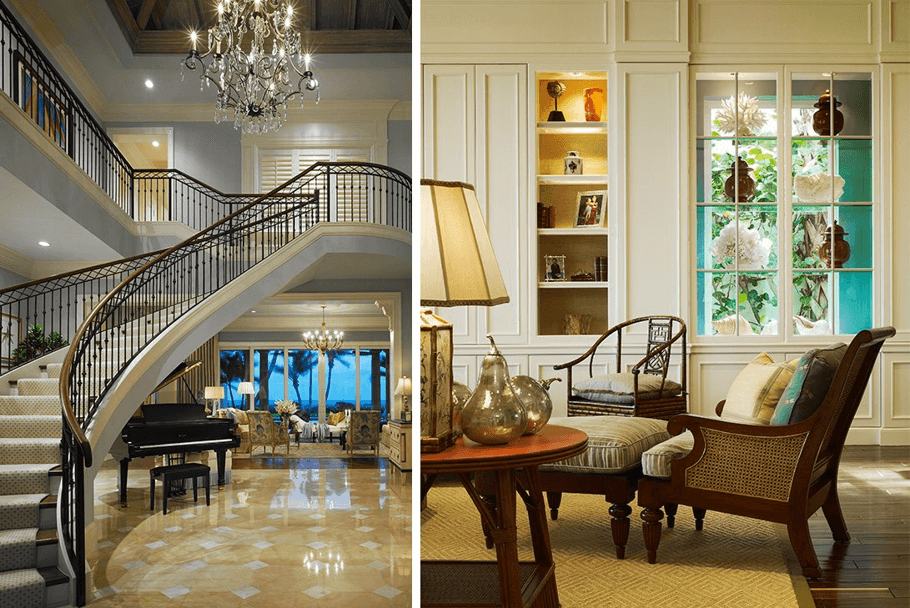 The Most Amazing and Luxurious Hotel Lobbies in the United States
Luxury hotel lobbies across the country boast breathtaking displays of color, art, texture, and floor-to-ceiling awe-inspiring design meant to make an unforgettable first impression to distinguished guests. Take a look at some of the most impressive luxury hotel lobbies in America, and perhaps you'll get some design inspiration to make your own memorable first impression.
Step foot inside this incredibly unique historic prison-turned-luxury hotel, which once housed inmates of Boston, including the infamous Malcolm X. The Liberty features one of the most jaw-dropping luxury hotel lobbies with its floor-to-ceiling exposed brick and geometrically-patterned lobby floor and impressive oversized cast-iron light-fixtures hanging from the towering vaulted ceilings. Standing in this incredible luxury hotel lobby, you'll be able to picture the original jailhouse as it once was. The lavish architecture of the 1851-erected building seamlessly blends classic historical design that screams "Boston," with a mid-century modern flair.
The Baccarat Hotel pays tribute to its fine crystal name with its shimmering façade and glimmering lobby, displaying hundreds of Baccarat pieces. The Baccarat Hotel not only boasts one of the most glorious luxury hotel lobbies in the US, but Conde Nast Traveler also recognizes it as one of the best hotels in the world. The elegant design of the Baccarat's luxury hotel lobby features two of the hotel's seventeen glorious custom-produced Baccarat crystal chandeliers with pops of ruby-red color throughout. The impeccable design of this luxury hotel lobby emits grace, elegance, and tasteful-extravagance.
With a name like Roosevelt, you know it has to boast one of America's most refined luxury hotel lobbies. Since opening in 1893, this traditionally-designed luxury hotel has housed presidents, celebrities and royalty while visiting the Big Easy. Named after President Theodore Roosevelt as a thank you for his revitalization efforts for the city, this luxury hotel lobby boasts gilded gold crown moldings uncovered in a 2009 renovation, impressive crystal chandeliers, and a lengthy art-deco inspired walkway spanning an entire city block. This is one glorious luxury hotel lobby you don't want to pass up if you plan on visiting New Orleans.
On the other end of the traditional design, you'll find Miami's modern W South Beach hotel. Only steps from the ocean, the W South Beach houses one of the most welcoming and relaxing luxury hotel lobbies, with tasteful design and an abundance of comfortable seating options. The W South Beach boasts high-contrast color schemes and a multimillion-dollar art collection featuring paintings by Jean-Michel Basquiat and Andy Warhol. The floor-to-ceiling granite walls feature wrought-iron-looking facades to add a splash of texture. The lobby boasts an eclectic collection of tastefully-modern cream-colored furniture of various textures including soft lambswool-type padded chairs, cushy couches, and oversized muted purple ottomans.
Turn your luxury design dreams into a reality
Big Apple's Waldorf Astoria features one of the most incredibly ornate and lavish luxury hotel lobbies on our list. From the second you step through the front doors of this iconic art-deco designed hotel, you'll feel the luxury oozing from each traditionally timeless detail. It's impossible to miss the towering nine-foot-tall bronze and mahogany clock in the lobby's center, a beautiful gift from Queen Victoria. Up the stairs and into the gloriously-vast grand lobby complete with an oversized crystal chandelier overhead that cascades light onto an impeccably-detailed mosaic on the floor below. As one of the oldest and most respected luxury hotels in New York, people come from around the world to soak in its timeless art-deco interior and historical pieces. The Waldorf closed in February of 2017 for renovations and is set to open early 2020. From what we've seen, they've stayed close to their traditionally-designed roots and will continue to awe hotel guests for years to come.
As the only boutique hotel on our list, the uniquely-designed interior of the Hotel Van Zandt displays one of the more unique luxury hotel lobbies. From the vaulted ceilings, you'll find several beautiful chandeliers paying homage to the city's musical history with their trumpet-like appearance. The floor-to-ceiling gray exposed brick complements the light-colored sprawling hardwood floors with scrolling script spelling out the hotel's name. The rustic flair of this luxury hotel lobby includes worn-leather couches and roughly-finished wooden accents throughout. The towering windows allow light to stream in and give this hotel a warm, rustic, modern feel.
Rounding out the list of our favorite luxury hotel lobbies is the lobby of San Francisco's Palace Hotel. This extravagant hotel recently received a $40 million interior facelift to make it even more impressive. As its name suggests, the Palace Hotel is luxuriously palatial with curved atrium ceilings, wrought-iron entranceways, and rich carpets. This iconic hotel lobby displays elegant vintage golden chandeliers throughout and gives you a taste of the splendor you'll experience in the hotel's breathtakingly-beautiful Garden Court.