4 Luxury Outdoor Entertaining Ideas from Our Award-Winning Interior Designers
When you think of entertaining, do you always picture a formal dining room? Carefully selected place settings? A five-course dinner?

While a classic, formal dinner inside can be lovely, an evening outside under the stars takes the experience to the next level. On days when the weather is perfect for al-fresco dining and entertaining, you want a space that is equally luxurious and comfortable for your guests to relax and indulge.

It's time to think outside the box and bring the concept of luxury entertaining to outdoor spaces as well! Browse these four great luxury outdoor entertaining ideas from our team of award-winning luxury interior designers. 
1. When in Doubt, Layout
Outdoor entertaining has evolved from the days of a few folding chairs and a picnic table. In fact, an outdoor space can really be an extension of your home, featuring several dining and conversation areas. Layout is key in determining how to arrange the space.

In this oceanfront Palm Beach estate, Palm Beach interior designer Melissa Adair selected a long, classic dining table accompanied by casual bar seating and large, comfortable upholstered chairs.


"We wanted to create a true outdoor living space – a great spot for entertaining guests or relaxing with family. A neutral color palette and comfortable lounge seating was key for our clients," says Melissa about the Palm Beach luxury interior design project.

The result is a light and airy livable space for both residents and guests. Classic design elements are mixed with modern touches like a marble countertop and stainless-steel hood. 

2. Heat Things Up
If you live in a cooler climate, you may be limited by the weather to how many days a year you can entertain outside. Having a custom outdoor fireplace or fire pit is a great way to add warmth to your patio for your luxury outdoor entertaining project.

In this Colorado mountain home, guests can huddle up to the fire with a mug of hot cocoa. Twinkling string lights on the veranda create a relaxed and cozy ambiance for dinner.

Even when not being used functionally for warmth, custom outdoor fireplaces are a unique focal point for your entertainment area. At this Florida ranch, a stone fireplace with a floating wood mantel also serves as the backdrop for a mounted flat screen tv.
Turn your luxury design dreams into a reality
Designers Christina Villalonga and Allie Barkow mixed upholstered and resin wicker furniture to create several comfortable seating groups. Two large chandeliers are made of barn wood with exposed bulbs.
"The exaggerated scale of the light fixtures brings the seating groups together," says Allie. Guests can sink into the large sectional sofa and cheer for their favorite sports team or enjoy charcuterie and conversation at a group of four teak dining tables.
3. Merge the Best of Both Worlds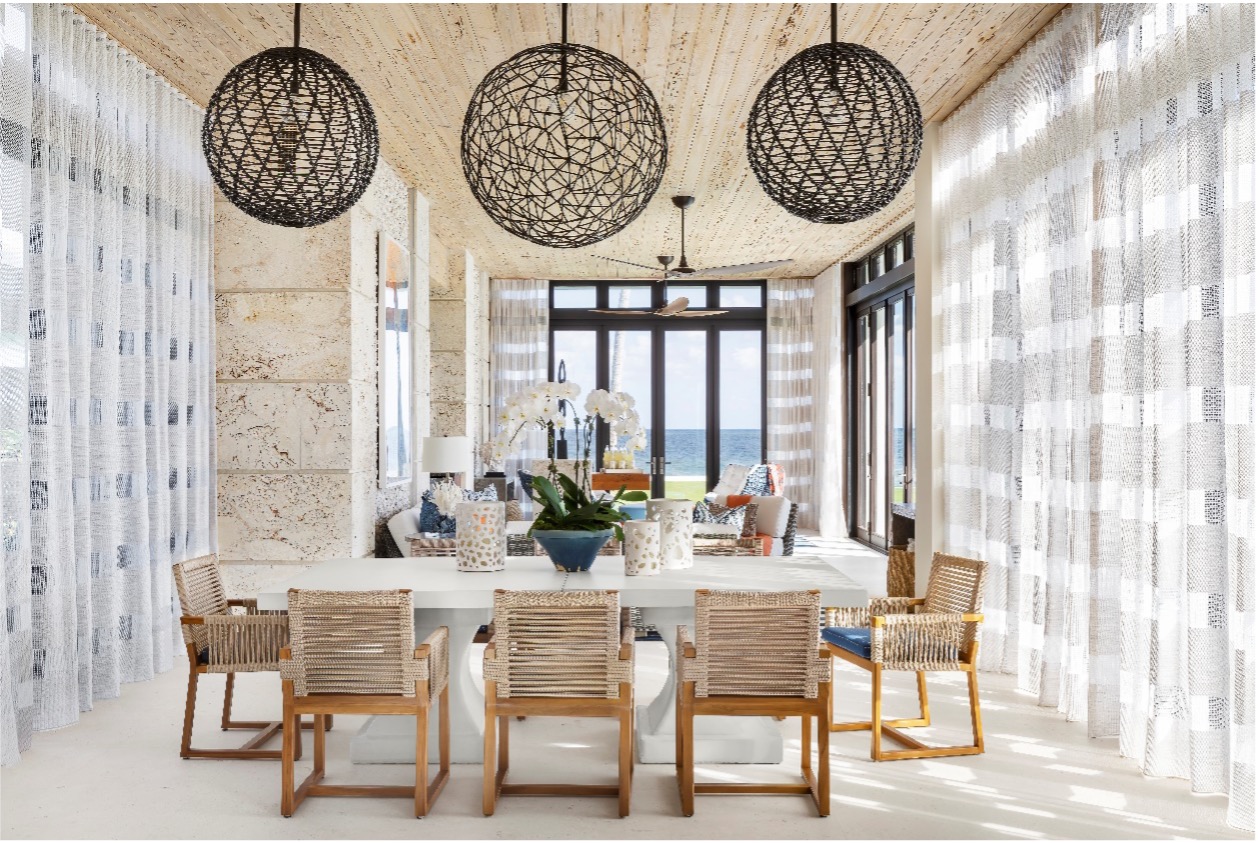 How do you entertain outdoors when you live in a tropical climate? When you need to avoid exposure to harsh outdoor elements like sun and rain but still want to entertain in a breezy, open-aired space, an indoor/outdoor loggia is the perfect solution.

In this Palm Beach house, wispy sheer draperies camouflage an entire wall of glass doors that can be folded open or closed. A trio of custom globes is a focal point above a concrete dining table and natural woven chairs.

The combination of warm and cool colors and rough and smooth textures from our Palm Beach interior designers makes the luxury outdoor entertaining space dynamic and interesting.  
4. Stretch Your Space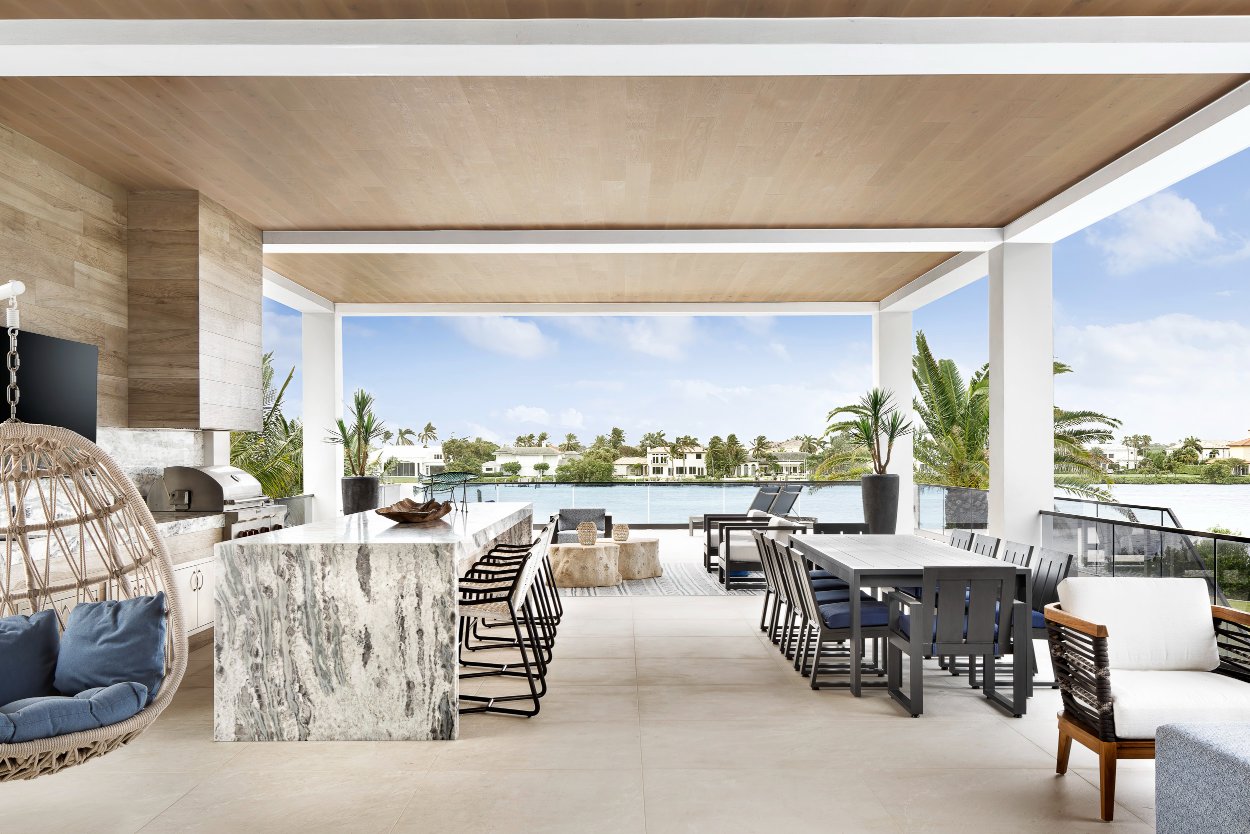 One of the benefits to designing outdoors is that you have more area to work with without being constrained to walls and a limited floorplan. When creating a space for outdoor entertaining, don't be afraid to fill it with large-scale furniture.

At this Manalapan home, luxury interior designer Shannon Callahan chose an oversized hanging chair as a statement piece and selected a generous dining table. A large quartzite waterfall island and modern counter stools invite guests to pull up a chair and enjoy beautiful 360-degree water views.

The result is an open, relaxing environment for guests and residents needing some space and a breath of fresh air for luxury outdoor entertaining. 
Designing the Ideal Luxury Outdoor Environment for Your Guests

Throwing your next soiree outside isn't as daunting as it seems. Utilize the elements of space, layout and focal point to design the perfect luxury environment for your guests. Mix various textures and add some custom elements like a fireplace, mood lighting and a mounted TV to elevate the luxury outdoor entertaining experience.

So long stuffy formal dinners – hello evenings under the stars! Contact Marc-Michaels to discuss your luxury outdoor entertaining project with our internationally acclaimed team of luxury interior designers today.