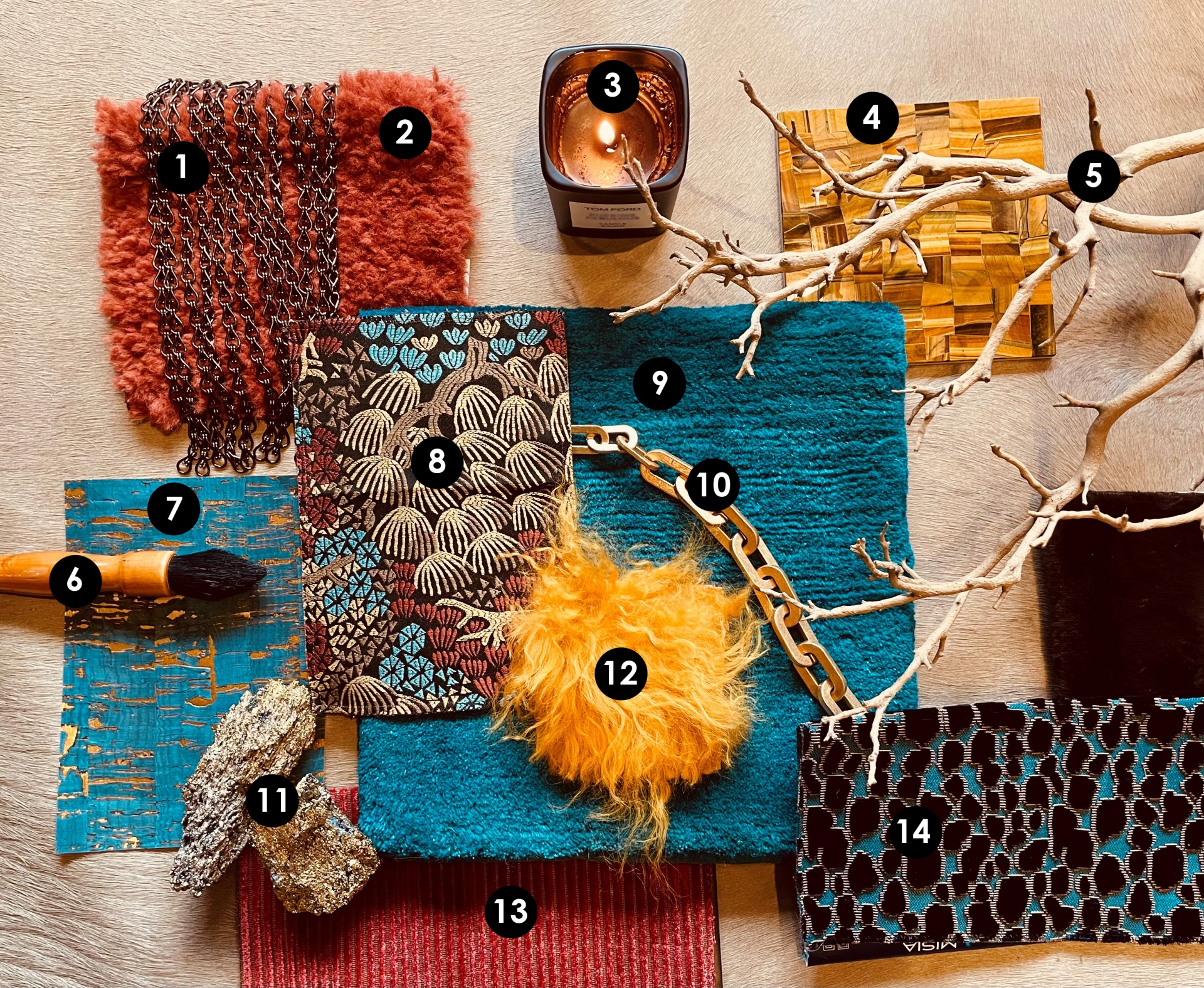 At the beginning of the summer, we asked our designers to each build us a mood board of materials that inspire them. With over 25 flat lays submitted, we were blown away by the creativity and innovation of our staff. Since then, we've shared many of the images on Instagram in our "Flat Lay Fridays" series. The series has quickly become a fan-favorite, a way to showcase our talented team and share with our followers what makes us excited about design.
Curious about what goes into making a mood board? Let's go behind-the-scenes of the making of one of our favorites by Senior Project Manager, Linda Hartmann.
Inspired by the rich colors in the Sahco fabric (8) – a more sophisticated take on the primary colors of red, yellow, and blue – Linda built the color scheme to match. The variety of plush textures mixed with natural elements create a mysterious yet inviting vibe. "This palette would work well for a cozy library, surrounded by leather bound books with an adjoining powder room," Linda says.
Turn your luxury design dreams into a reality
Here, she breaks down the details and tells us what inspired each choice:
Kriskadecor Snina chain in Satin Coffee finish – "This is such a fun material for a room divider – the chains dance with the slightest breeze."
Casamance Bharal in Terracotta – "Faux fur has come such a long way in the past 10 years. This plush shearling is made even yummier by the color and would make a fun ball pillow."
Tom Ford candle – "This is one of my favorite scents – top notes of leather with hints of almond, iris heart and floral orris accord. It has a great throw, filling up a room with scent in no time."
Tiger Eye mosaic – "Nature is so amazing! The tiger eye semi-precious stone has a reflectivity and depth like no other."
Manzanita branch – "Every room needs a few touches of nature. This looks equally at home in a minimalist setting as it does in a more layered space."
Calligraphy Brush – "This reminds me of the artist's hand behind all the wonderful designs we see in our industry. A collection of these would be a nice touch to a coffee table on top of a book."
Omexco Calligraphy in Teal – "This cork wallpaper has a gold underlayer which would turn any powder room into a little jewel box."
Sahco Mirari color 0290 – "I love the Asian inspired vibes of this jacquard fabric in an updated color scheme. This would look great on the backs of dining chairs."
Donghia Townhouse rug in Azul – "The lush silk and mohair underfoot invites you to kick off your shoes."
Zara chunky gold necklace – "This adds an edge to any outfit!"
Fool's gold – "Mother Nature proves sparkle doesn't always have to be 14k! A chunk of this looks great mixed in with books on a shelf."
Moore and Giles Himalaya in Monarch – "This Mongolian hair on hide would look great on a small footstool with ebonized legs."
Casamance Lanata in Carmin – "A cut velvet fabric in durable acrylic/polyester gives a soft hand but wears well – great for an upholstered lounge chair."
Misia Niki in Bleu – "This cut velvet in an abstract leopard print is just so luxurious to the eyes and to touch. I'd make down-filled pillows with a silk brush fringe in jet black."
Follow us on Instagram or Facebook for our weekly "Flat Lay Friday" feature!