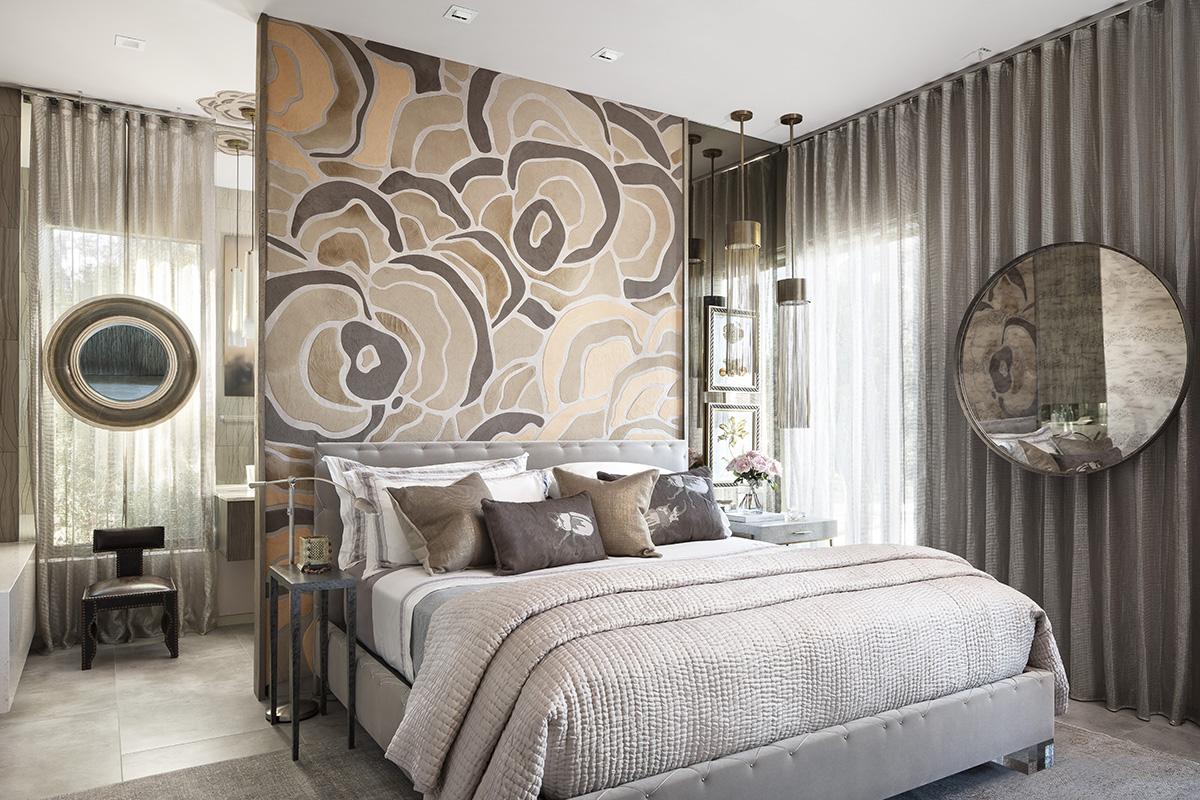 Every Marc-Michaels project consists of a wide range of vendors who bring their best products to the table. One vendor that always stands out is Kyle Bunting Rugs. Much more than just a rug maker, Kyle Bunting handcrafts Italian hides into intricately designed works of decorative art.
Each Kyle Bunting Rug piece is uniquely crafted for the space it was designed. His mantra – "any size, any shape, any color" – opens the door for limitless options from floor to ceiling.
An Eclectic, One-of-a-Kind Collection Featuring Kyle Bunting Rugs
In 2018, Marc-Michaels Principal Designer Marc Thee launched a one-of-a-kind collection with Kyle Bunting. Truly embracing the concept of design as decorative art, the astonishing collection pairs bold, rich colors with intricate and unexpected patterns.

With names like Broken, Bloom and Rise, the collection explores the universal experience of heartbreak, introspection and growth.
"So much of life is held in the experiences we share. It is these relationships – whether newly blooming or freshly broken – that hold such sentiment and bring meaning to our lives."
– Marc Thee, Principal Designer


We asked some of the designers at Marc-Michaels what they love about Kyle Bunting:
What's Your Favorite Thing About Working with Kyle Bunting?
"I love the Kyle Bunting 'Color your Own' tool. It makes it so easy to visualize what our finished product can look like." – Robin Sturm, Senior Project Manager
Turn your luxury design dreams into a reality
"He is up for ANYTHING! The crazier, the wilder, the more out there the better!"
– Kathryn Dunagan, Vice President


Do You Have a Favorite Kyle Bunting Product?
"Of course, our Marc Thee line! When we can, we love mixing some leathers in with his hide options to maximize texture." – Kathryn Dunagan, Vice President
What Do You Like About Marc Thee's Line with Kyle Bunting?
"Marc Thee's 'Bloom' pattern is one of my favorite patterns. It's so versatile and works with multiple hide colors or in a simple monochromatic combination."  – Robin Sturm, Senior Project Manager
"The patterns are so flexible and by changing up the color palette, the vibe completely changes." – Kathryn Dunagan, Vice President