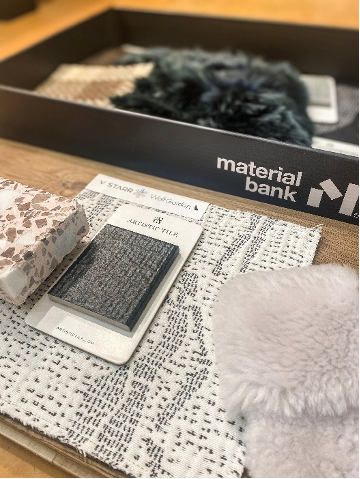 It's 7:30 p.m. and you're wrapping up a presentation for the next day. Your trays are laid out perfectly with the fabrics and finishes of your client's dreams. You reach over to add the final piece and step back to take it all in when you realize something is missing – wallcoverings in the primary suite to pull it all together.
It's a situation that every designer finds themselves in at one time or another – the panic of needing a sample for a presentation tomorrow. In the days of Amazon Prime, social media and everything being available at our fingertips, it was only a matter of time before the design-world caught up. Adam Sandow, founder and CEO of Material Bank, had a solution.
Headquartered in Boca Raton, Florida, Material Bank, the world's largest material marketplace for the architecture and design industry, is changing the landscape of design. Now designers and architects can search through an online library of hundreds of brands and materials, order samples by midnight, and have them in their hands by 10:30 a.m. the next day.
Unneeded samples can be returned to Material Bank and reused, eliminating waste. The best part? The service is completely free for design industry professionals. 
Since its launch in 2019, Material Bank's growth and success have skyrocketed. Sandow recently announced that the company would be expanding internationally into Europe and Japan, with no plans to slow down any time soon.
Turn your luxury design dreams into a reality
We asked our award-winning design team of luxury interior designers at Marc-Michaels Interior Design what they love most about Material Bank, and the response was unanimous – accessibility and efficiency.

"I love the variety of vendors and new products they constantly add to their site," says Allie Barkow. "Most importantly, Material Bank has been the most helpful with their overnight delivery! This has saved us so many times when we have a presentation or need to find a fabric reselection."
Other Marc-Michaels team members like to use the online library to spark creativity. "The mood board feature is something I use often when pulling in early stages of a project," says Kristen Walsh. "Along with the fresh palettes they put out every week, it keeps me inspired!"
Another Marc-Michaels team favorite are the free goodies, whether gift cards or interior design magazines, that Material Bank frequently sends along with samples. Put simply by Karen Beben, "speedy service and the occasional treat" are what keep our luxury interior designers coming back for more and land Material Bank among our top favorite vendors.