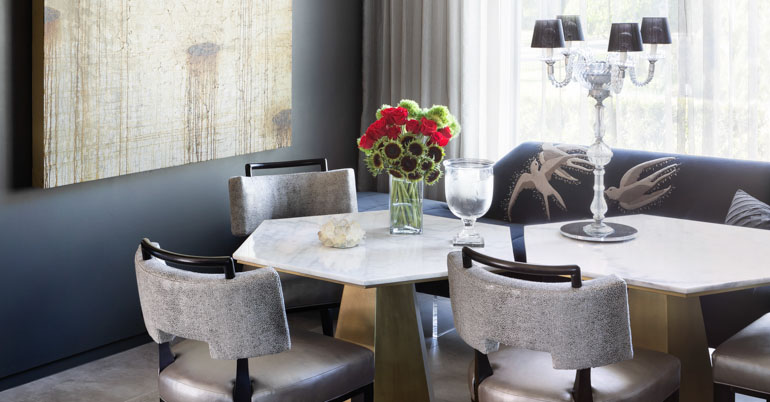 Vendor Spotlight – Kravet
Marc-Michaels enjoys many long-standing relationships with vendors. One that always gets it right is Kravet. First opened in 1918, Kravet Inc. is an industry leader in the to-the-trade home furnishings industry. A fifth-generation family business, Kravet carries fabrics, furniture, wall coverings, trimmings, carpets, and more.
We asked the designers at Marc-Michaels to highlight their favorite things about Kravet Inc. Here is what they said:
What is your favorite thing about working with Kravet?
"My favorite thing is experiencing the warmth and service that the Kravet family offers. They are a family-owned and run business. Therefore, they have a special way of treating their clients like friends that they value and appreciate. They CARE about making every experience the best it can be." – Marc Thee, Principal Designer, and Co-Founder
"I think of Kravet as the "complete package" for designers. Their customer service never disappoints. They work with great designers. This gives them the chance to offer beautiful, on-trend fabric and furniture selections. And the quality is excellent." – Christina Villalonga, Senior Project Manager
"Great customer service. I love that Kravet is still a family-run company." – Becca Masterson, Designer
"The Kravet brand covers a wide range of design. High-end luxury to affordable staples. Bold and fresh to classic and timeless." – Tiffany Denny, Senior Project Manager
Turn your luxury design dreams into a reality

Do you have a favorite Kravet fabric/print?
"Anything from Kravet's Linherr Hollingsworth's collection is a winner for me." – Becca Masterson, Designer
"I love the Kravet Couture Line, especially "The Hunt Is On – Smoked Pearl" color. – Tiffany Denny, Senior Project Manager
Do you have a favorite Kravet piece of furniture?
"Kravet has great cocktail table options and a nice wide range of styles. I love the Bristol Nesting Cocktail Tables and the Hexagon Pedestals." – Tiffany Denny, Senior Project Manager